English-Speaking Jobs in Germany
We tell you in which professions you can work as an English speaker, which tasks you can take on, and what salary you can expect. In our job search, you can find the best jobs in Germany for English speakers.
---
---
On JobMESH you can find the best English-speaking job offers. With more than 1.9 million job ads, JobMESH is one of the leading job search portals in Germany. One search. All jobs.
Professions without required German language skills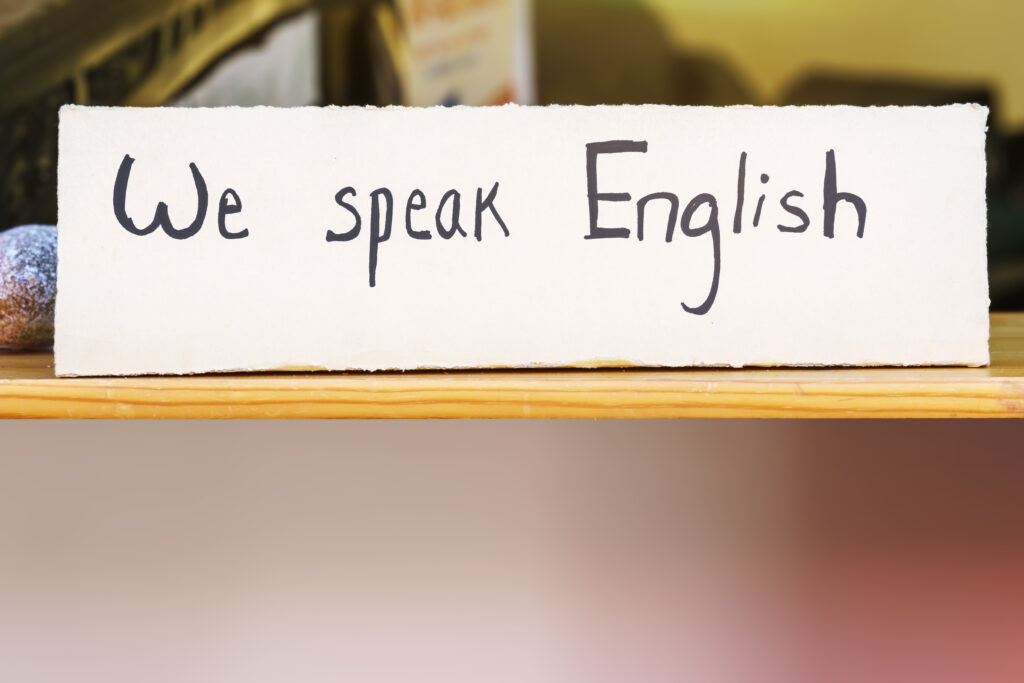 Finding a job as a foreigner without German language skills is not easy. Foreigners who have a qualification that is in demand (e.g., programming), speak good English or are willing to take on a helper job have good chances on the German labor market.
An important condition for a profession without language in Germany is also whether the foreign professional qualification is recognized, or whether one is considered an unskilled worker (without training). Binding information on the status of recognition of foreign professions can be obtained from the employment agency (Arbeitsagentur).
Helper jobs for English-Speakers without German
A job as a helper can be done without training and often without German language skills. For this reason, helper jobs are often recommended by the job center and the employment agency to foreigners whose professional qualifications have not yet been recognized and who have little or no knowledge of German.
Popular occupations as helpers without training and language:
Permanent jobs as an English speaker
If you want a full-time job with a permanent contract as an English speaker without any knowledge of German and without any special training, then a helper job may not be right for you. Helper jobs offer a quick entry into professional life, but many job offers as a helper are often temporary and offer less planning security than a permanent full-time position.
Below you will find the best professions that often do not require training or knowledge of German as an English speaker.
Occupations in permanent jobs without training and for English speakers:
Cab driver (Taxifahrer/in)
Waiter (Kellner/in)
Truck driver (LKW-Fahrer/in)
Security employee (Security Mitarbeiter/in)
Well-paid professions for English speakers
Finding a job with knowledge of English but without knowledge of German as a foreigner is definitely a difficult task in Germany. However, it is not completely impossible and some professions for which no knowledge of German is required and still pay very well. However, a prerequisite for a well-paid job for foreigners is often a very good knowledge of the English language and special qualifications (e.g. programming languages).
Popular professions for English speakers and good pay:
Software developer (Softwareentwickler/in)
Expert for IT Security (Mitarbeiter/in IT-Security)
Development Engineer (Entwicklungsingenieur/in)
Professions for English speakers: these are the specifics
As a foreigner with English skills, but without German skills, the job search is a special challenge. If you are interested in entering professional life in Germany as soon as possible without knowing German, you have several options. As a first step, it is recommended to contact the employment agency and discuss the possibilities of a paid German course with the administrator and thus improve your job chances on the German labor market.
It is advantageous to have a good knowledge of English when looking for a job without knowledge of German. In a job for English speakers, one has good earning potential. However, a prerequisite for entry into a qualified job is special expertise in the fields of IT, engineering, digital marketing, international sales or a similar job offer.
Our tip for a job as an English-speaking foreigner in Germany: Look specifically for a job for English speakers, if you have a good command of English. Without German skills, you have good chances to apply for a helper job as a driver, production, or warehouse assistant.
Salary: How much does an English speaker earn?
Helpers without German language skills can earn between 1,700 and 2,200 euros, depending on qualifications, employer and working conditions.
Slightly better salaries are possible for jobs without language that have a permanent employment contract. Truck drivers fare the best. Salaries between 2,400 and 3,000 euros are not uncommon.
At the upper end of the salary range for English-speaking professions in Germany are all jobs for which special knowledge is required. As an English-speaking programmer without knowledge of German, you often don't have to fear a drop in salary and can expect a salary of around 5,000 euros.
Job offers: Who is looking for employees without German language skills?
In Germany, many professions require at least a low level of German, A2. Due to the shortage of skilled workers, some industries have already created opportunities for workers without German language skills to fill vacancies.
Job offers for foreigners without language skills can be found in professions that do not require customer contact and much coordination with colleagues. These include jobs in production, the skilled trades, the freight forwarding industry, or building cleaning.
Industries with job offers without German language skills:
Industry (production)
Handicraft enterprises
Forwarding companies
Warehouse logistics
Object protection & security
English speakers without German language skills are also in demand as software developers in IT departments of companies. English speakers also have good opportunities with large companies in some major cities (e.g. Berlin, Hamburg, Munich or Frankfurt) in Germany.
Career with English skills in Germany
Foreigners looking for a job in Germany do not have it easy with little or no knowledge of German. It is advisable to learn the German language quickly in Germany. Many companies in Germany prefer applicants with knowledge of German, even if knowledge of English would be sufficient for the actual job.
Entry opportunities for English speakers
Foreigners without German language skills looking for a job have to overcome many hurdles. For EU foreigners, a work permit must also be obtained. Once a work permit has been obtained, the question still is whether the foreign professional training is recognized in Germany.
If the training is not recognized, then you should apply for jobs for which no training and no knowledge of German are required. Suitable for applicants are some helper jobs, e.g., as a delivery driver, courier, production or warehouse helper.
Our tip for finding a job in Germany without language skills: Look specifically for an entry-level job that requires low language skills, and complete a subsidized German course at the employment agency at the same time. This will improve your career opportunities in Germany in the long term.
If your education has been recognized in Germany, you should apply for a job offer in your profession. Some job offers are also aimed at English speakers. These jobs often require little or no knowledge of German. Foreigners with training in nursing also have good job prospects, as many employers urgently need to fill their jobs in the health sector, regardless of German language skills.
Continuing education while working
If you have decided to accept a job as a helper with little or no knowledge of the German language, you still have the option of taking a part-time German course. Under certain circumstances, the jobcenter and the employment agency will pay for a part-time German course, as this is a good opportunity for foreigners to have good chances on the German labor market and thus the risk of unemployment can be permanently reduced.
However, part-time training is not only suitable for professionals who depend on the income from their work. Part-time German courses are also frequently taken up by young fathers and mothers who would not be able to manage a full-day course in terms of time.
In which professions can you work without German language skills?
Without knowledge of German, you can find a job as an assistant in gastronomy, warehouse logistics, forwarding, health care or industry, for example. Particularly good earning opportunities are available as an English speaker without German language skills, with a sought-after qualification, such as programming skills.
Professions without German language: professions, careers & jobs.
What can you earn in Germany as an English-Speaker?
As an English-speaking employee without German language skills, you can get a start in a job in Germany as an assistant and then earn slightly more than the minimum wage. Significantly higher salaries are possible in sales or in the IT industry as an English speaker. These well-paid jobs for foreigners then often require a degree or other qualifications.
This is what you can earn without knowing German: Professions & Salaries.